Publicity and Promotion
Japan Drone / International Advanced Air Mobility Expo Public Relations Office was set up, and professional staff members distributed press releases, provided news to the press club, and actively promoted the event to the media.
Official Media Sponsors
Official media sponsors provided comprehensive support for the exhibition by placing advertisements in industry newspapers, magazines, and other media closely related to the drone industry, writing advance notices, and providing press coverage during the exhibition.
Japan Automotive Daily, Nikkan Kensetsu Tsushin Shimbun, Logistics Nippon Shimbun, Agricultural Machinery News, DRONE.jp, Drone Tribune, Drone Journal, Radio Times, Exhibition and MICE, Global Information, LOGI-BIZ online, Aviation News, Fishery Times, Forest Journal, eVTOLinsights, eVTOL.com/MHM Publishing, AKIHABARA NEWS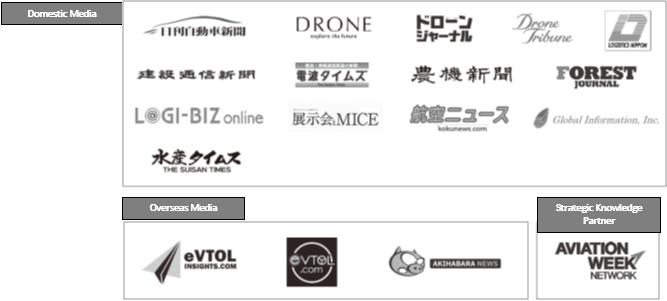 Pre-event publicity
【PRESS RELEASE】
News releases are distributed to related media at various points to increase exposure, such as at the start of the call for exhibitors, at the announcement of exhibition details, and immediately prior to the exhibition.
【Mail magazine】
In addition to newsletters sent out by the secretariat, we also used e-mail newsletters sent out by the media with the cooperation of media sponsors.
【Banners placed in the web media, etc.】
DRONE.jp, Exhibition and MICE, Drone Journal, FORESTJOURNAL, Logibiz Online, AVATION WEEK NETWORK, e-VTOL, e-VTOL.com and AKIHABARA NEWS
Display Ads / Listing Ads
GDN (Google Display Network)
The use of RTB technology has made it possible to target "people" rather than "ad spaces" as in the past. Furthermore, by segmenting by age group and region, ads were distributed on the Web targeting "people" who are highly interested in drones, flying cars, and their peripheral equipment, technologies, and services.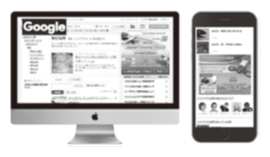 Station Digital Signage Advertisement: Tokyo Metro Otemachi Station
Dates: June 1 - 28, 2023
Quantity: 14 ads totaling 46 pages
Media size: 60 inch
Attributes/Others: The ads were mainly placed near the main ticket gates and on pillars in the free passage area where there is a large flow of people in the station.
Hanzomon Line Area

Marunouchi Line Area

Main media covering the event
Number of media visited: 153 (total for 3 days)
Media coverage and placements
1,988 articles and news (as of July 28, 2023)
Print advertisements
[Newspaper]
Japan Automobile Daily, Nikkan Kensetsu Tsushin Shimbun, Logistics Nippon, Radio Times, The Fishery Times
[Magazines]
Exhibition and MICE, Agricultural Machinery News, Aviation News, Unmanned Aerial Vehicle Handbook, Aircraft Handbook, AVIATION WEEK
Visitor Invitation tickets: 90,000 copies
The number of copies has been significantly increased from last year, and the layout design allows exhibitors to include their company name on the prints so that they can actively distribute the tickets to their business partners and new customers.
Pre-registration on the Event Website
We started accepting registrations on the official event website in late May 2023, and worked to increase the number of visitors by linking with web advertisement distribution and other PR channels.
Broadcasting-Exposures and Newspapers
[TV stations]
News LIVE! 5:00 p.m. (NHK), NEWS LIVE α (Fuji Television), World Business Satellite (TV Tokyo), ANN NEWs (TV Asahi), ChibaTele+Plus (Chiba Television)
[Newspapers and News Agencies]
The Yomiuri Shimbun, Nikkei, Tokyo Shimbun, The Ehime Shimbun, Kanagawa Shimbun, The Kitanippon Shimbun, The Kyoto Shimbun, Kumamoto Nichinichi Shimbun, The Sanyo Shimbun, The Shikoku Shimbun, The Shinano Mainichi Shimbun, Chiba Nippo, The Tokushima Shimbun, The Nagasaki Shimbun, Minaminippon Shimbun, Miyanichi e-press, Yamanashi Nichinichi Shimbun, The Ise Shimbun, The Kochi Shimbun, The Shizuoka Shimbun, Visual Communication Journal, The Suisan Times, The Nikkan Kensetsu-Kogyo Shimbun, Japan Metal Bulletin, Denpa Shimbun Daily, Japan Metal Daily, The Suisan-Keizai Daily News, Shimbun, Net Nihonkai, The Daily Nenryo-Yushi, The Electric Daily News, Agricultural Machinery Shimbun
[Weekly Magazine - Monthly Magazine]
Monthly Smart Horse, Mono Magazine, The Japan Exhibition News
[Net News Media]
Yahoo Japan, Excite, Infoseek, Livedoor, 47news and more
[Online Media]
Drone.jp, Drone Tribune, LOGI-BIZ online, ITMedia, Nikkei X TECH/ Nikkei Electronics, Response, BUILT, ASCII.jp / Ascii Weekly, Gendai Business