Concurrent Events
Drone Movie Contest 2023
Screening of Nominated Films and Award Ceremony
June 27 (Tuesday) 16:00~17:00 at the open stage in the exhibition hall
The Drone Movie Contest is an aerial photography contest sponsored by Digital Hollywood Robotics Academy and Japan UAS Industrial Development Association (JUIDA), with the aim of producing excellent drone movies that comply with safety guidelines. This year's Drone Movie Contest, now in its 7th year, has attracted many high quality entries and has been featured on TV programs, attracting more and more attention.
【udges】
Mr. Mitsuhiro Sasaki:
MC, President, NAVA Inc. / Aerial Photography Artist/Director/Visual Communication Producer
Mr. Akio Watanabe:
Representative Director and Dronegrapher, Crescent-L Design
Mr. Tom Inokawa:
Editor-in-Chief of PRONEWS / Editor-in-Chief of DRONE.jp
Mr. Atsushi Taguchi:
Robotics Academy Representative Director, Dron é motion Inc.
Mr. Kakuya Iwata :
Executive Director, Japan UAS Industrial Development Association (JUIDA)
Drone Movie Contest 2023 Grand Prix
Mr. Kazuyuki Miyagawa
"A dream of marshland -cradle of life-"
Judges' Special Award
Sasaki Prize
Mr. Sota Sano
"I LOVE JAPAN"
Drone é motion Award
Past Keeper
"Your Landscape"
Finalists (3 works)
Ms. Kotoya Yoshida
"Why Mountain Climbing?"
Mr. Hajime Hirano
"Forms of Beauty Created by Nature"
Mr. Takashi Miyagawa
"Ishikari Shiraoi Waterfall"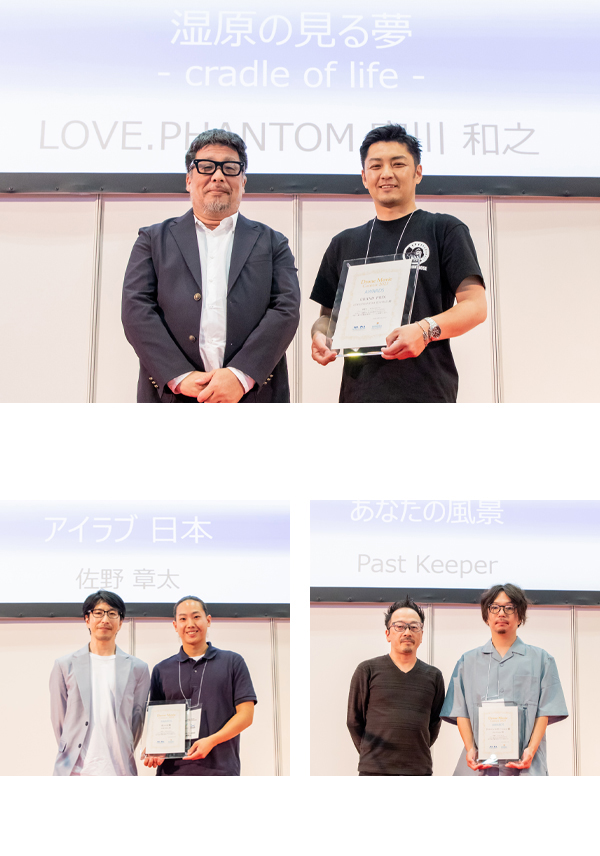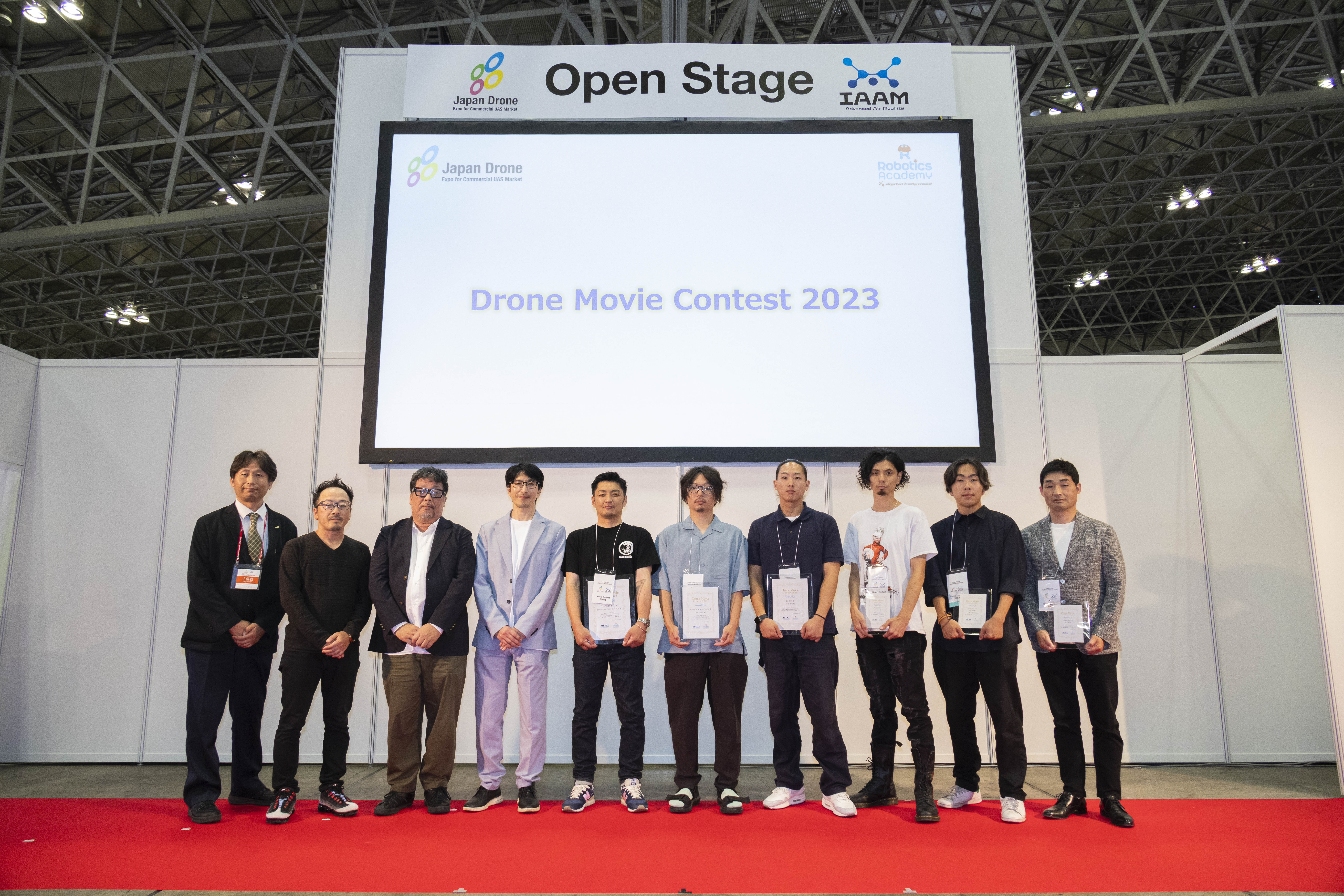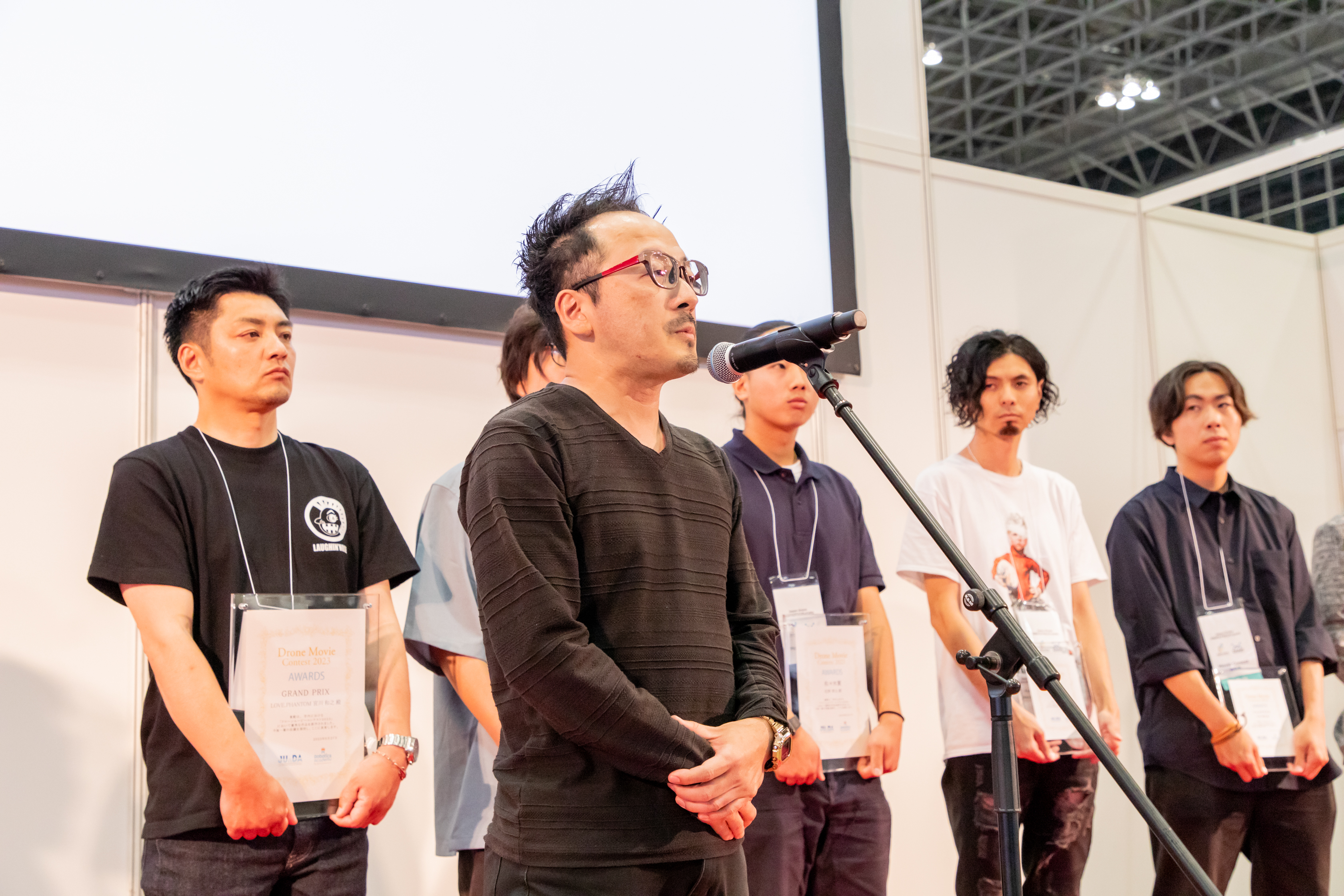 Japan Drone & AAM Awards 2023
Presentation and Award Ceremony
Wednesday, June 28, 16:00~17:00 at the open stage in the exhibition hall
Hardware Category| Grand Prize
LIBERAWARE Co., Ltd. "IBIS"
The "IBIS" drone developed by LIBERAWARE is one of the industry's smallest drones, with dimensions of 20cm and weight of 243 g. It is equipped with an advanced variable control function that enables stable flight and high-bridge density images inside equipment of various types. By using IBIS, the factory war rate can be reduced by greatly extending the inspection period (reduction of opportunity loss), and scaffolding costs and manpower costs can be reduced by shortening the construction period. It also reduces the need for workers to enter hazardous areas, thereby improving safety.
In addition, 3D data generated from the acquired video and image data will be used to promote advanced facility maintenance, stabilize production, and increase efficiency.

Software Application Category| Grand Prize
Advanced Spatial Information Technology Evaluation Support Center x Environmental Remote Sensing Research Center, Chiba University x Gotemba City "VIRTIUAL MONITORING TOWER"
The "Virtual Monitoring Tower" is a system that can acquire centimeter-level accurate location information (plum degree longitude) of the disaster point and the damage situation (images) by simultaneously shadowing the disaster point with two drones at the time of disaster.
This allows data acquisition from a safe distance without the need to fly over the evacuees, as is conventionally done. This R&D project has been conducted in collaboration with industry, government, and academia, and has included the development of a dedicated aircraft and software, as well as actual experiments and market value assessments through the government's Disaster Prevention Assessment Line.

Judges' Special Award
*This award is given to a product, technology, service, or exhibitor that deserves a special award after all the judge inspects the exhibitor's booth. The award is given on an unspecified basis each year. Exhibitors not entered for this award may also be selected.
GMO Internet Group, Inc.

Audience Award
*This award is for the product/technology/service that received the most votes from visitors during the exhibition.
Toyo Seikan Co., Ltd. "Spray-can injector system for drones "SABOT-3""
The "SABOT-3" is a spray can injector for drones. The SABOT-3 provides drones, which have been mainly used for aerial photography, with new working power, enabling them to work in high places without lifting their feet. The spray cans can be used for a wide range of purposes simply by replacing the cans, such as light repair work on structures using rust inhibitors or concrete surface impregnators, marking work during inspections, and bird damage prevention using repellent agents.